SPECIFICATION
SALOON seat covers are custom made, they are not universal and they fit specific model only, to ensure perfect fitting and excellent look.
INSTALLATION
Our seat covers are defined as DIY product, nevertheless, some elementary skills and basic tools are needed. More in "INSTRUCTIONS"
MATERIAL
Our seat covers are made from 1.2mm thick eco-leather made specially for car interiors. Check "MATERIAL" tab for more information
WARRANTIES
Before accepting an order we always ask for pictures of your seats to be 100% sure that seat covers will fit.
For non-commercial transport there is 2 years warranty, for commercial 20 000 km.
We are offering you to change seat cloth upholstery with our custom seat covers. Seat covers are made for specific car model, all car's specifications are taken into account. All necessary openings for the equipment are envisaged: isofix, airbag, heated seats, armrests, head seats and tables won't lose their functionality. The patterns of our luxury seat covers are taken from original seats thus their form perfectly matches the seat seat. After the installation your interior will look like new and only few will know that these are seat covers.
In average we are spending more that 1000 hours a year in a route, it's ⅛ part of our life!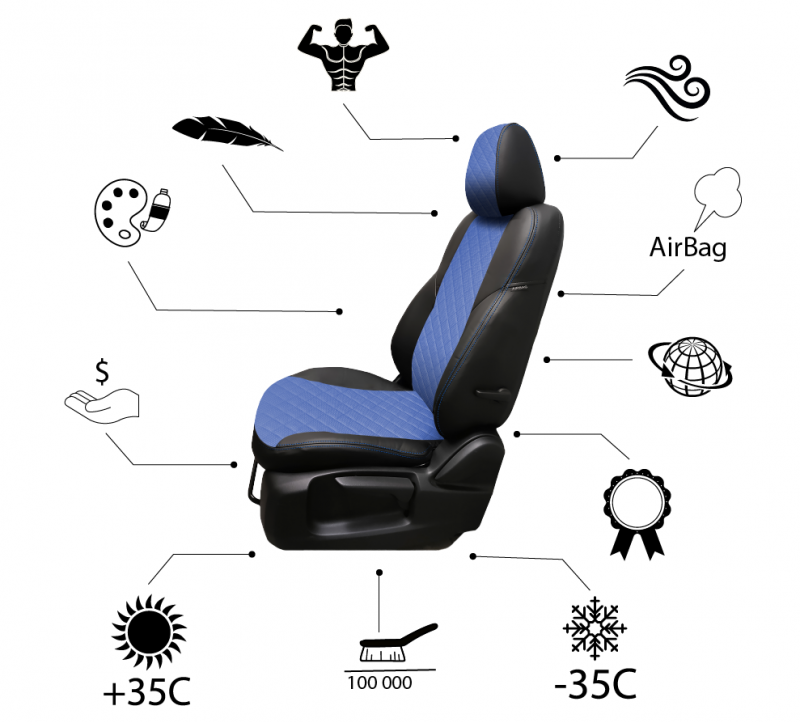 Way to work and backwards, going shopping, "family time" even: our seat covers will make this time more comfortable and pleasant. You don't need to worry about stains of ice cream and dog paw print on your seats. Forget about dry cleaning because our seat covers are very easy to clean – just wipe them with wet wipes.
SALOON seat covers have number of benefits. They give extraordinary individual look, there are variety of different colors, materials and stitching.
Your interior, if it is new, will be secured or masked if it is worn out and dirty. Interior with such custom seat covers gives your car extra value, thus this upgrade can be considered even as investment.
FREQUENTLY ASKED QUESTIONS
Renars Strazdins
9. May, 2022.
recommends
Renault Master. Lieliska pārvalku kvalitāte👍! Labs serviss! Iesaku. Paldies
Жанна Стаевская
3. May, 2022.
recommends
Vakar Sergejs ielika jaunu salonu manam Volvo C30 - nereaali skaisti, eerti un kvalitatiivi 💣💣💣🔥🔥🔥🔥 iesaku!! juus esat labaakie 🏆🥇👍👍😀😀😀
Екатерина Свентицкая
10. March, 2022.
recommends
Супер довольна качеством чехлов и сервисом! Спасибо ребята!😍
Roman Geiko
11. March, 2021.
recommends
Очень понравились EVA коврики, установили на Golf 7, стильно и очень практично ! Советуем
Диана Филипова
23. February, 2021.
recommends
Очень крутые, советую на всё 100. Всё подскажет, всё покажут, посаветуют. Осталось очень довольна 🙏😍 Вы огонь 💣💣💣💥
Thuận Anh
23. December, 2020.
recommends
I really like the product from Saloon. They using the high quality materials and it fit perfectly for your car.
Владислав Козлов
17. December, 2020.
recommends
отличные чехлы, установили быстро и качественно
Darya Ragimhanova
16. December, 2020.
recommends
Уже неделю езжу с новым салоном и не могу нарадоваться. Спасибо большое за качественную, красивую работу! Однозначно буду рекомендовать!
Ingars Siliņš
25. November, 2020.
recommends
Kalpo pusgadu. Ir arī baltais materiāls, par kuru baidījos. Bet viss ir ideāli. Ja ir kāds netīrums - pārej ar mitru salveti un viss! Atkal kā jauns! Lieliski arī izskatās. Materiāls taustei patīkams, mīksts. Sēdi kā īstā ādas dīvānā. Nemaz jau nerunājot uz ķīmiskajām tīrīšanām, uz kurām ietaupās kaudze naudas. Visiem iesaku!
Renāte Meldere
15. November, 2020.
recommends
Esmu sajūsmā par savu jauno salona izskatu,mašīna pēc jaunu pārvelku nomaiņas, izskatās fantastiski un sajūta kā jaunā,sevis izvēlētā sapņu automašīnā ! Iesaku ikvienam kas vēlas jaunu skatu un vēsmas savai mašīnai, sēdekļu pārvelki ir uzšūti tā, ka neviens nespētu pateikt ka tie ir pārvelki,liekas ka ir uzlikti jauni, izcili ādas sēdekļi,iesaku ik vienam palutināt savu mašīnu un dot tai ekstremālās parmaiņas un jaunu elpu,arī kāju palikņi ir izcili laba un invotīva lieta,kas ar saviem šuvumiem ļauj netīrumiem un slapjumiem palikt šūniņās un nenonākt uz jūsu automašīnas grīdas to nesasmērējot 🥰