Honda Accord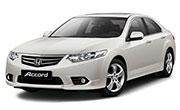 Honda Civic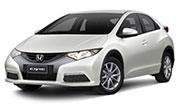 Civic VIII 2006-2012
Civic (USA) 2001-2006
Civic VII 2000-2005
Civic IX 2012+
Civic X
Honda CRV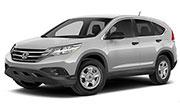 Honda CR-V II 2002-2007
Honda CR-V III 2006-2012
Honda CR-V IV 2012+
SALOON – is a company manufacturer of the high-quality custom seat covers for different brands and models. We deal with their production and professional installation. Our online-shop has collected a collection of luxury covers for the most popular models of HONDA. Custom car seat covers for HONDA not only have a wide selection of model range but also a design and a large colour spectrum. They are created according to the patterns of the original factory seats of a certain model of this given car brand. Due to this, their shape, sizes and technical indicators 100% match. During the tailoring all details are taken into account, electro-heating, air-bag,the presence of a folding table and back and also technical openings. All nuances of the interior are taken into account.
Quality guaranteed
2 year warranty
Affordable price
Best price on the market
High Grade Materials
1.2mm thick eco-leather made specially for car interiors
Easy to maintain
Just wipe them with wet cloth or napkins
Custom made
Individual design
100% positive feedback
More than 1000 happy clients
Modern custom seat covers for Honda
Our premium covers are created from eco-leather of finest quality, they are durable and capable of withstanding a long-time exploitation period. The products are equipped with the hooks on the elastic cords and velcros the hooks-are secure fasteners ,which allow  you to carry out  installation on your own. Due to ease in care, you can save money on a professional dry-cleaning, as most stains can be removed by just wiping the covers with a wet wipe. Car seat covers allow you to quickly and inexpensively renew the interior. All car enthusiasts know that the service of a full re-upholstery isn't cheap that's why the installation of SALOON luxury seat covers is a very popular and relatively inexpensive alternative. They perfectly deal with the task of protecting the seats and also carry out decorative functions. With their help it is possible to effectively change interiors appearance returning its former beauty and gloss. If you are to use a model product with original design ,then it will be possible to create a unique interior of your own style. With this upgrade driving a car will be more comfortable and will bring pleasure.
Qualitative protective seat covers for HONDA
There are several reasons to buy premium car seat covers. Most of the time– it's a wish to hide the worn-out upholstery and improve the interior. But there are those car enthusiasts who care about the condition of their seats in advance and install the covers in a new interior. This decision is very practical as it allows one  to preserve the initial appearance of the upholstery  of the car and if there will be any future need to sell the car, the price will be higher.
It would be nice to take care of the interior safety, if the driver often goes out of town to the countryside for fishing, hunting or does active leisure when  the seats are used to carry  baggage or takes kids or pets with them. In this case, custom seat covers will prevent the appearance of stains and damages.