Smart Fortwo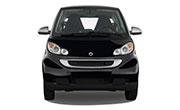 The need to buy custom car seat covers for Smart cars appears when its seats become worn out, unpleasantly looking and uncomfortable and a car interior itself losses its looks. Basically, it's a matter of time. An average driver spends approximately 1000 hours per year driving their car. So it's not surprising that the upholstery becomes unusable besides from wearing out during the exploitation of the interior troubles such as contamination or damages. All these problems can be solved easily quickly and inexpensively with the help of our products.
The custom covers are tailored from eco-leather of a finest quality, for tailoring the company SALOON uses the precise patterns of the original factory seats. They ideally repeat their shape, size and all additional parameters. For example if they have heating and air-bags, reclining backrest and table or there are technical openings, all these are considered. Also, the specific features of the interior of one or another car model of Smart are taken into account.
Quality guaranteed
2 year warranty
Affordable price
Best price on the market
High Grade Materials
1.2mm thick eco-leather made specially for car interiors
Easy to maintain
Just wipe them with wet cloth or napkins
Custom made
Individual design
100% positive feedback
More than 1000 happy clients
Premium seat covers of popular models of Smart
The SALOON products, when installed on the Smart's seats, look and fit like a «glove" as if they are a part of its original factory set. Such a positive visual effect can be improved by the service of a professional installation. Our specialists not only install the product but tailor it along with its original «own» upholstery creating an effect of a professional interior re-upholstery.
Custom car seat covers are produced like removable product. To make the installation and dismantling procedure simple with special fasteners are used — velcros and hooks on the elastic cords. This way it can be installed on your own and removed when needed. The care process is very simple enough to wipe the dirt away with a wet wipe however no more need of going to dry-cleaners and worry about kids soiling it. This will help to save money apart from that they are more money-saving alternative to the re-upholstery and along with the loyal pricing policy of the SALOON Company their purchase becomes very profitable.
Effective protective car seat covers for car brand Smart
Custom car seat covers – are multifunctional products they can protect the new upholstery and hide the flaws of old upholstery at the same time. Also the luxury seat covers are capable of transforming the whole interior making it unrecognizable which is very easy to do with the help of a large model range of premium SALOON products, wide selection of a colour palette and designer solutions. Bring back the former look and comfort to your car by making a new interior in an original style.