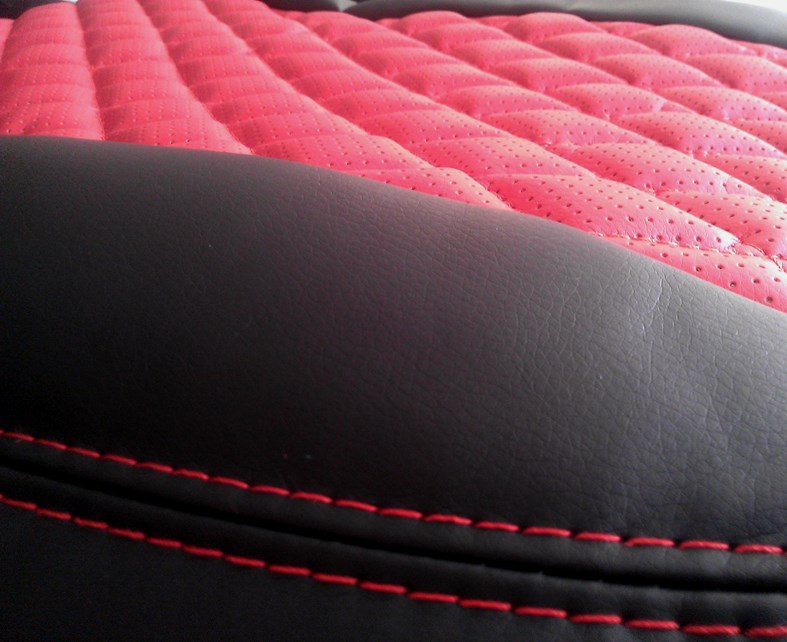 Our seat covers are made of eco-leather. Eco-leather is a high-tech material, which has made possible to enjoy benefits of leather seats without killing animals, adverse effects on the environment and using toxic raw materials, like PVC. Modern technologies made possible to replace leather without using PVC in composition of material like it was years ago. Furthermore, at glance, it is difficult to see the difference between genuine and eco-leather and, in some characteristics, eco- leather surpasses the genuine one. It is no longer a secret that major automotive companies had stopped using genuine leather in interiors of their cars. 
Eco-leather has several benefits: 
Durable and scratch resistant

Waterproof

Breathable

Eco-friendly

UV and heat resistant

Remains soft even at sub-zero temperature

Easy to maintain, no special chemicals needed
But what the eco-leather is and how is it made? Polyurethane layer with microscopic pores is applied on a cotton base. Microscopic pores make material breathable so you wont be sweating while driving. These pores are so small that water is not soaking in so easily and the, furthermore, it is very easy to clean such material.